First qualifying match
Sunday 28th June 28.
Venue: River Soar Sutton Bonington
57 anglers fished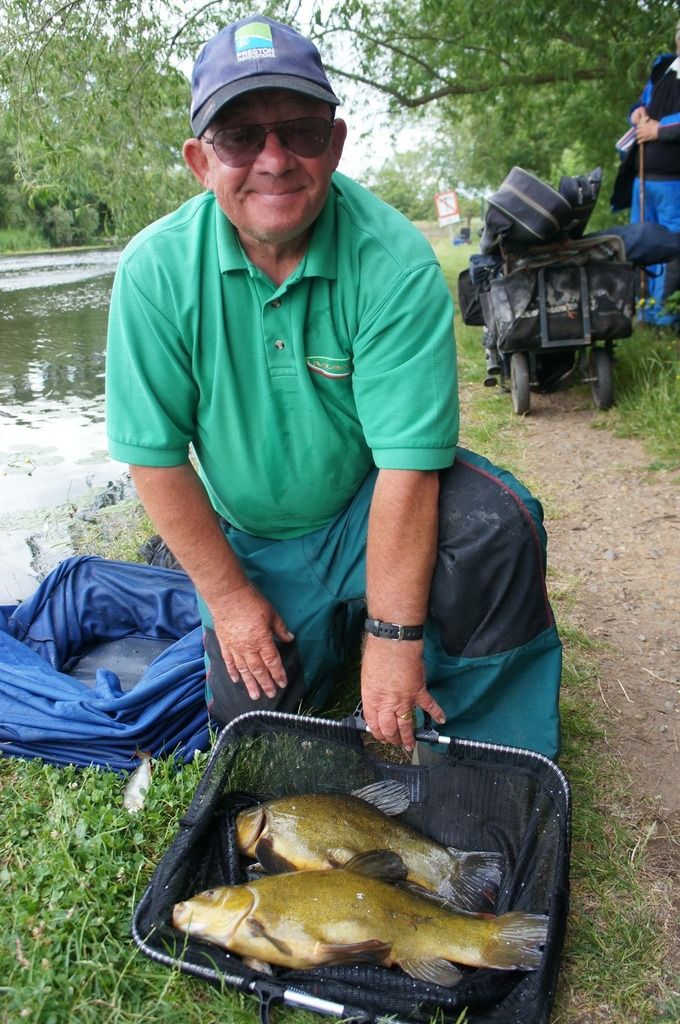 Brian Hull with a brace of Tench in the last half hour of the competition for 8lb odd and 5th in the match
Great turnout for the Sensas river soar Masters first round competitors arrived on back to find the conditions very windy and over cast .The wind howling straight the river maked presentation very difficult for most of the anglers yet plenty of fish were caught Bream and Tench played a big part in the top five individuals . Hemp seed played a big part in the sections and that all important section win to go through to the final . Most rounds of the remaining rounds are sold out  with some big names now traveling from all over the country so please inquire before turning up . Local lad Steve Gardener made no mistakes drawing a good area on the wires Steve went on to win the match five good Bream and a handful of skimmers for 18lb 4oz  to take top place . Mark Parker enjoyed the tail end of the shoal on peg 27 again catching bream to to nearly 6lb for a total 12lbs 13oz Third spot went to Darren Davis who had traveled from London to fish this competition and managed a total of 11lbs 6oz  and a nice brown envelope .Next round is the 12th July again thanks to the hockey club loughborough for the draw and breakfasts and the king William pub Sutton Bonnington for the refreshments and sandwiches afterwards 
   Individuals
1)Peg 25 Steve Gardener Wreake A.C. 18lb 4ozSteve had five bream to 4lb plus a few skimmers two on the pole over groundbait and the rest on the groundbait feeder with red maggot as hookbait.
2) Peg 27 Mark Parker Long Eaton Federation 12lbs 13oz
Three bream plus a few perch on the long pole fishing chopped worm
3) Peg 23 Darren Davis Drennan 11lbs 6ozs
4) Peg 26 Dean Guess Drennan Leicester 9lb 13oz
5) Peg 70 Brian Hull Long Eaton Federation 8lbs 2oz
6) Peg 44 Adey Reynolds Quorn AS 6LB 8oz
7th Peg 73 Adam Nurse Shimano/Wigston A.S. 6lbs 1oz
Qualifiers for the final
Steve Hurst (Wigston A.S.)
Joe Oaks (Wigston/Shimano)
Martin Jacques (Browning)
Chris Buckingham (long Eaton Federation)
Sam Merry (Shakespeare)
Adey Reynolds (Quorn A.S.)
Steve Gardener (Wreake A.C.)
Brian Hull (Long Eaton Federation)